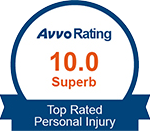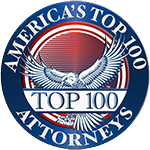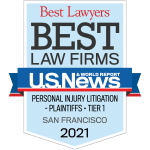 Dixie Fire Claims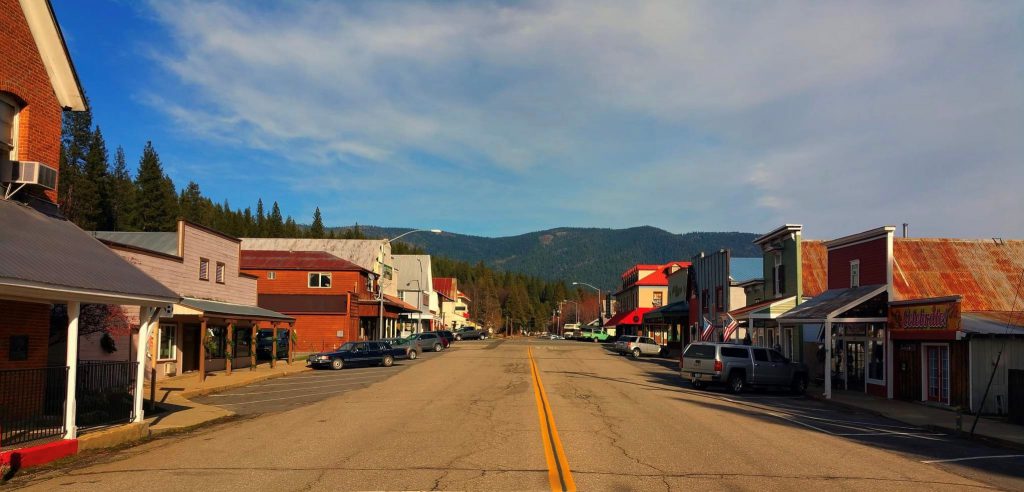 Looks as though PG&E is Liable for the Dixie Fire
A PG&E troubleman was checking on a power outage. He saw a live Douglas fir tree leaning on a Bucks Creek 12 KV powerline, a blown fuse near the powerline, and a fire on the ground near the base of the tree. That's when PG&E called 911 and the fire was first reported.
PG&E is supposed to keep trees trimmed at least four feet from its 12KV lines. PG&E failed to do that. When PG&E doesn't comply with the tree-trimming laws, and a tree touches a wire and starts a fire, PG&E can be held fully accountable to those who suffer injury or property damage.
That's why PG&E now says it's "probable" PG&E will have to pay for damages caused by the fire.
Dixie Claims Not Affected by the PG&E Bankruptcy
PG&E is now out of bankruptcy. That means Dixie Fire claims do not have to go through the bankruptcy court, or to the bankruptcy trustee. Payments do not come from the limited funds set aside for the victims of the Butte, North Bay, or Camp Fires. Rather, Dixie claims are brought in court directly against PG&E and are to be paid by either PG&E itself (the "new" PG&E) or its insurance company.
There is money to pay Dixie Fire Claims
PG&E says it has about $300 million in insurance that covers claims for the Dixie fire. If that's not enough, PG&E has access to a $21 billion state wildfire insurance fund.
Some of the Damages Dixie Fire Victims are Entitled to Recover
Damage to homes
Damage to fences and outbuilding
Tree, timber and landscape damage
Business losses
Harm to pets
Harm to livestock
Diminution in value to property resulting from the fire
Loss of use and enjoyment of property
Lost items of sentimental value
Nuisance and annoyance associated with being displaced
Living expenses while displaced
Cost to repair
Attorney's fees
Home Insurance Does Not Cover All Your Losses
Experience shows that even the best homeowners policies won't cover all claimants' losses. To be made whole, a fire victim needs to make a claim against PG&E.
Not a Class Action
In a class action, everyone is included unless they opt out. Dixie Fire claims are not a class action. Each claimant must hire his or her own lawyer.
Contingency Fee
We work on a contingency fee. We do not get paid unless you do.
Why Choose Danko Meredith?
Our Experience
We filed our first lawsuit against PG&E nearly 30 years ago. No firm has more experience suing PG&E. Since 2010, we have won settlements against PG&E for thousands of wildfire survivors.
You Don't Pay Anything Unless We Win.
If we don't win, you owe us nothing. We will not charge you for legal fees or for any the costs of litigating your case unless PG&E pays your claim.
Dixie Fire claimants' recoverable losses and damages include:
Wrongful Death
Lost Income
Physical Injury
Emotional Trauma
Loss of Animals (Livestock & Pets)
Loss of Personal Property
Evacuation Costs
Danko Meredith in the News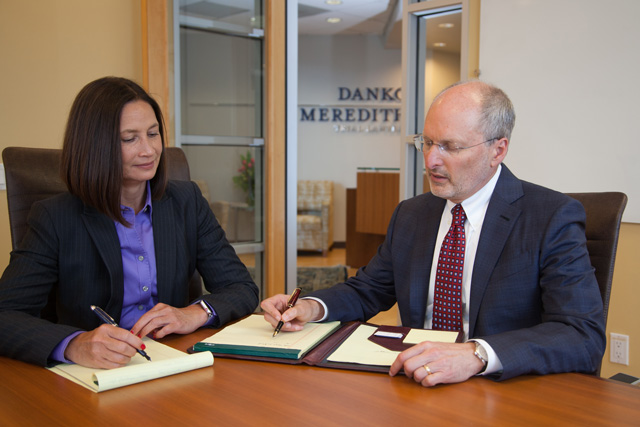 About Danko Meredith
We take on corporations, government agencies, and insurance companies who injure ordinary people. We're known for taking cases all the way through trial and winning.
We've been named one of the Best Law Firms in America by US News & World Report. Our award-winning lawyers are consistently listed among California's elite.
We care about our clients. And by entrusting us with their claims, our clients help make sure that what happened to them won't happen again to someone else.
A History of Holding PG&E Accountable For Wildfire Losses
2018 Camp Fire Lawsuits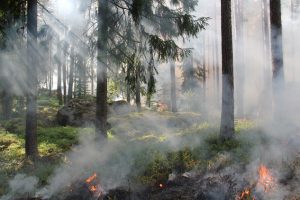 PG&E knew that the hardware on it transmission line was worn and in need of replacement. Internal documents show that PG&E decided to defer the repair work, counting on rain to put out any fire that would result if the hardware failed. But the hardware failed on a November day when there was no rain. The resulting fire destroyed the town of Paradise, and devastated Concow and Magalia. It wiped out 15,000 homes and killed 84.
We represent more than 5000 Camp Fire claimants. We brought the first lawsuits on their behalf against PG&E in state court. We pressed on with the claims in federal court when PG&E filed bankruptcy. As a result of the proceedings in bankruptcy, PG&E paid into a trust more than $10 billion – funds that are now being distributed to the survivors of the Camp, North Bay fires and Butte Fires. As a result of the evidence we unearthed against it, PG&E was convicted of 84 counts of felony manslaughter.
2019 Kincade Fire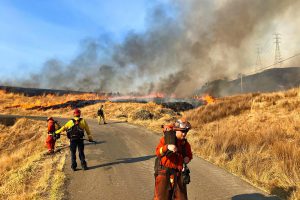 PG&E should have replaced its aging hardware on a high voltage tower near Geyserville. But it decided to defer the work. In October 2019, the hardware failed. The failure caused a jumper wire on the tower to come loose and dangle over the vegetation below. Within 10 minutes, the vegetation was on fire. The flames became what is now known as the Kincade fire.
We represent clients who lost their property and, in some cases, businesses in the fire.
2020 Zogg Fire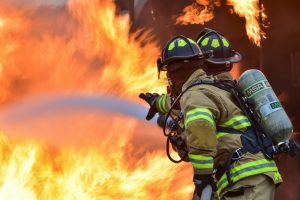 A gray pine tree touched a PG&E 12 kV electrical transmission line north of Igo, igniting a fire that destroyed 204 buildings and killed four people.
PG&E was supposed to trim trees near its lines to prevent this sort of fire from starting. County prosecutors are expected to bring a criminal case soon. But criminal proceedings do nothing to compensate our clients, who lost their properties in the fire. That's why are pursuing their civil cases against PG&E in San Francisco Superior Court, seeking the cost of restoring their properties to their previous condition as well as compensation for the annoyance, inconvenience and emotional distress suffered as a result of the fire.
San Bruno Fire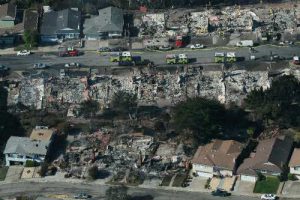 When one of PG&E's underground gas lines exploded in San Bruno, it killed eight, destroyed 38 homes, and damaged many others. The gas line ruptured because when PG&E installed it in 1958, it did not properly weld the pipe's seam. Over the years, PG&E's own engineers warned management that the pipe might be unsafe. But instead of replacing it, PG&E operated the pipe at increasingly high pressures until it ultimately split apart.
PG&E replaced its CEO once the utility's unsafe practices came to light, and PG&E was ordered to institute new and safer practices so that similar explosions would be avoided.
We obtained settlements for 59 victims of the explosion. Though the settlement amounts are confidential, PG&E has reported that the clients' claims were resolved as part of a larger settlement that cost PG&E more than $500 million.
Butte Fire
A wildfire raged through Calaveras County burning 70,000 acres and hundreds of homes. The fire started when a tree leaned against a PG&E power line. We determined that PG&E should have trimmed the tree to keep the powerline safe. PG&E proclaimed that the fire was not the result of a tree touching its power line but, if it was, it was all the fault of an independent tree trimming contractor. We proved that PG&E failed to properly train the contractor. The judge agreed, ruling that the fire was PG&E's responsibility.
North Bay Fires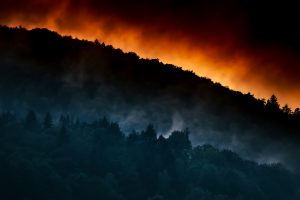 The October 2017 North Bay were a series of seventeen major fires that burned at least 245,000 acres, destroyed more than 5000 structures, and killed 44. The wildfires broke out throughout Napa, Lake, Sonoma, Mendocino, Butte and Solano Counties. These fires included the Tubbs Fire – at that time the most destructive in California History – the Atlas Fire, the Nuns Fire, and others.
Evidence showed that Pacific Gas and Electric Company equipment was the cause of all of the individual fires. Most of the fires were the result of PG&E's poor vegetation management practices and its failure to inspect and maintain
its equipment.
Cal-Fire had initially determined that the Tubbs Fire was the one major North Bay Fire that PG&E did not cause. But in August 2019 lawyers for the survivors set a fast-track jury trial to revisit that issue. The matter was settled shortly before trial began, with PG&E agreeing to compensate the fire victims of the Tubbs Fire as well as the victims of the other fires.
We represent hundreds of North Bay victims in claims arising from property damage, personal injury, and wrongful death.
Testimonials